The Nike TW Designer Collection features the official shirts worn by Tiger Woods.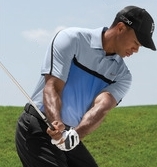 What is now becoming a standard, manufacturers release their respective "scripts" or clothing that their players will wear during major Championships. For Nike over the last ten years, "Scripting" is a process where the Nike Golf Apparel team works with Nike Golf athletes in mapping out what each athlete needs as it relates to performance, technology, comfort and style. GOLF GEAR carries Nike Golf's Fall 2013 Tiger Woods Collection featuring three scripted polos: Nike TW Designer Red Striped Polo with printed stripe front and solid jersey back, The Nike TW Designer Blue and Grey Colorblock Polo and the Nike TW Designer Black and White Ombre Polo.
Every style in the TW Designer Collection is lightweight and breathable. Innovative Nike Dri-Fit high-performance, microfiber polyester fabric wicks sweat away from the body and moves it to the fabric surface where it evaporates.  The polos offer additional stretch, designed to allow for an increased range of motion throughout your swing. You stay dry and comfortable. The TW Designer Print Polos also utilize a laser-perforated collar for better ventilation while reducing overall weight.
Shop now for your choice of the Nike TW Designer Polos.