SpeedBlade is designed to flex more effectively at impact, broadening your sweetspot!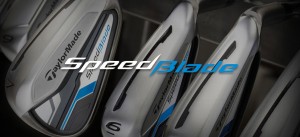 The highly anticipated Taylor Made SpeedBlade irons are now on the showroom floor at GOLF GEAR, ready for you to come in and try them out. The Speedblade irons are easy to launch on a high and strong flight. Among the many features, the 3- through 7-SpeedBlade irons are designed with a slot cut into the sole that extends back in the heel and toe areas. This updated design allows the club face to flex more effectively at impact, broadening the sweetspot, resulting in more consistency.
In addition, the SpeedBlade's lower center of gravity and clubface functionality not only stretches the sweetspot wider, but effectively pulls it down. The 8-iron, 9-iron and wedges in the SpeedBlade irons do not have slots in the sole because golfers don't compress the face on those clubs. The long irons are cast from Carpenters steel for strength while the mid- and short irons are cast using 17-4 stainless steel, which is softer, to enhance feel.
Among the SpeedBlade Irons many features:
Elongated Pocket. Faster face and more ball speed in the center, down low, toward the toe and toward the heel.
Lowest CG of any TaylorMade distance iron. Easy to launch on a high and strong flight.
Individually engineered heads. Optimized distance, trajectory, control, spin, feel and sound.
Advanced head structure. Speed Pocket polymer and multi-material badge. Absorbs unwanted vibration to promote fantastic sound and feel.
Balanced distance gaps between each iron. Every iron is valuable; closes gap between longest iron and lowest metalwood.
Bending notch. Easier to bend for loft and lie adjustments.