GOLF GEAR SEASON ENDING STOREWIDE SALE!!!
     Sale on April 11th and 12th 
       9:00am- 6:00pm.  
     DON'T MISS OUT!
The Golf Gear Bi-annual sale is going on the weekend before Easter!  You have to come and take advantage of these great deals we have going on in the pro shop.  We have Mens and Ladies Clothing from $5.00 and up.  Discontinued Shoes from Nike, Footjoy, and Adidas are now on clearance.  Golf Gloves – $4.99 Ladies HJ Gloves. Hats, Golf Clubs, Balls, and Gloves are all on Sale.  Vokey SM4 Wedges by Titleist are now $99.99, Regularly Priced at $129.99.
Check out the Golf Club Deals: Buy one Get one Free!!!  Great Deals on the Taylormade Clubs- Buy a Jetspeed Driver and get one FREE Taylormade Fairway or Rescue Club!!!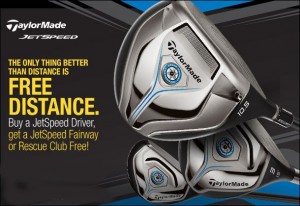 Offer good until 6-1-14.
Event Location:
Golf Gear
1865 SE Federal Hwy, Stuart, Florida 34994
(772) 288-1310