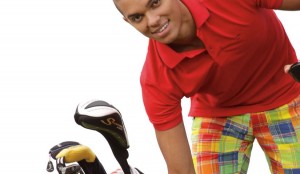 "From Fairways to Runways, Mountains to Seas, Loudmouth style is for those who want to stand out and make others smile.
It  all started when founder Woody decided  to make his golf outings convivial occasions and produced a pair of powder blue pants with Bugs Bunny on them.  This tongue-in-cheek fashion took on a life of its own.
With business partner, Larry Jackson, the brand has grown internationally from the United States to Asia, Canada, Europe,  and Australia.
Woody and Larry realized that they were having as much fun in the pants off the course as they were on. Today, Loudmouth is popping up everywhere, from barbeques to weddings, on the ice at the Winter Olympics, and in the TV, film and music industries.
Loudmouth, the most recognizable golf brand in the world, is expanding to swimwear/surf/snow, boxers, accessories, and children's wear.
Enjoy the world of Loudmouth…"
Here are some recent pictures from the Loudmouth Restaurant in Orlando, Florida.
You can find them at  8965 Conroy Windermere Road, Orlando, Florida 32835  /  Tel. (407) 217-6877


Also available now at Golf Gear– new Loudmouth Grips!  Check them out now!