Rory McIlroy takes win on Sunday at Hoylake for the 2014 British Open at Royal Liverpool, but it wasn't easy.  Starting off the last round with a six stroke lead, doesn't seem like a small gap, but contenders Rickie Fowler and Sergio Garcia wouldn't give up so easily.
"Garcia made three birdies over his first five holes to put some pressure on McIlroy, while Fowler started off slow but fired a back nine 33 to make the conclusion a bit dramatic.
McIlroy made a big par putt on the 17th hole, gave a subtle fist pump as he knew it was all but wrapped up, and two-putted for a safe par on the final hole to win by two shots and claim his third major championship." (sports.yahoo.com)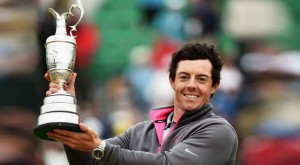 Jim Furyk, Marc Leishman and Shane Lowry were also not close behind.
The 10th hole included Garcia's big Eagle putting him at 66, even though he was stumped on his bunker shot on the 15th hole.
"Rory McIlroy joins Jack Nicklaus and Tiger Woods as the only players to win three of the four majors at the age of 25." (sports.yahoo.com)
"Like he did at 2011 U.S. Open and PGA Championship a year later, McIlroy added to his major legacy. The 25-year-old now stands one green jacket away from the career Grand Slam, one smashed drive at a time." (GolfChannel.com)