Small business is – quite frankly – big business. The Small Business Administration identified that there are more than 28.2 million businesses operating in the United States as of March 2014, with about 63% of new jobs being created from small businesses between 1993 and mid 2013. Of these 28.2 million businesses, most are "self-employed" – making up about 3/4 of the U.S.'s total businesses. Meanwhile, approximately half of small businesses survive five years or more, many of which make up your local coffee shops, favorite local boutiques, preferred chiropractor or local pet shop. (forbes.com)
When you consider how many small businesses surround you in your everyday lives, it is impressive to think about the amount of time, commitment and labor these hard working individuals contribute to make their businesses both come to life and stay alive. Customers assume that pricing will automatically be higher at a small business vs. a corporate owned store,  as well as they dismiss the perks that many small businesses offer such as customer care, inventory assortment and community support. However, did you know that many of these misconceptions about small businesses are just that… misconceptions?
1. Stores do not control pricing of most products. Vendors do. Prices are controlled by the manufacturers suggested retail, not by each individual store. Once the styles are no longer new, each store has the ability to make markdowns.

2. Inventory is not always more easily available at big box stores. Small business are still offered the same inventory that big box stores are being offered. More variety actually.

3. Customer service is more personalized, hands-on and noteworthy from smaller businesses. You know your customers at a small business. They know Sally and Joe from down the corner to help you in a faster manner and know exactly what each person needs.

4. Product diversity and options are often greater at small businesses vs. chain stores.  Small business are more likely to carry a variety of different boutique items that you cannot find in larger stores. One of a ind items that are simply amazing.

5. Local business owners are more likely to give back to your community. Bigger chains are less likely to give back to you rlocal community and help out local causes. Not to mention you are helping a family put a meal on a table by shopping in a local store, rather than helping a CEO buying a third vacation home by shopping at a big box corporation.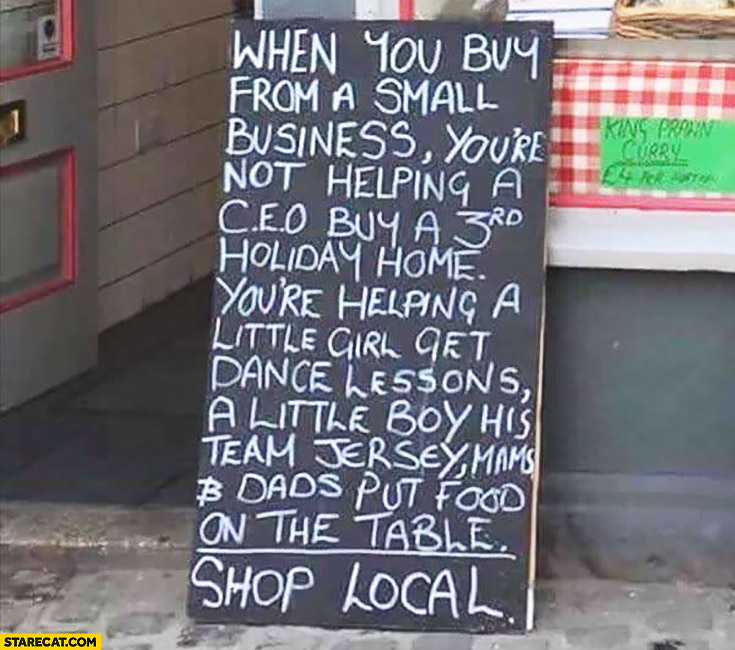 GOLF GEAR
, is one of the only and largest local pro shops (in Stuart FL) located off course that provides golf equipment, men/women golf apparel that is not being sold in on course pro shops. Golf Gear is one of Florida's oldest and Largest Golf Retailers for over 27 years, is the parent company of
The Ladies Pro Shop
.  They share an 8000 sq. ft. showroom and retail golf pro shop located in the historic downtown Florida.Golf Gear prides itself on its amazing selections of brand name golf equipment,
golf apparel
,
golf accessories
,
golf technology
and
golf gifts
for golfers of all ages and abilities. Premier merchandise brands include Callaway Golf, TaylorMade, Cobra, Cleveland, PING, Titleist, Adidas, FootJoy and more. The retailer also sells pre-owned golf clubs and offers golf club trade-ins.Golf Professionals on Staff offer lessons and Putting Bays with Computer Swing Analysis. Club re-gripping and Golf putting areas in store.
Schedule an appointment today!
Save