The golf professionals at Golf Gear, located in Stuart Florida, give us some tips on how to know when its time to get your clubs re-gripped.  This may seem like something that you only need to do once every few years, but little do you know it really impacts your game when your clubs are overdue for new grip.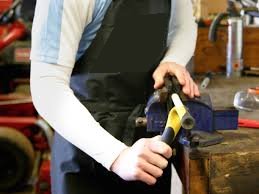 Here are a few reasons to stay on top of gripping your clubs:
Replace stock "standard" size grips with a size that best matches the size of YOUR hands
Select a material, texture, design and color that's best suited to YOUR personal style,
playing level, and weather conditions
To replace worn-out, slick grips that contribute to excessive grip tension and pressure
PLAY, LOOK AND FEEL BETTER WITH THE RIGHT GOLF GRIPS
Regardless of rounds played, a grip should always be replaced at the first sign of noticeable wear, including:

Smooth, hard surfaces
Cracks
Shiny patches
Wear spots, especially where the thumbs make contact
Faded or bare spots on grips that have been painted or have logos
Complete loss of tack
Golf Gear owner Harry Walch states, " It's kind of like getting a new haircut. You are thinking this is exactly how I want my hair to look.  Then a few months go by and you realize what a mess your hair is and need to get it cut. It's the same with your golf clubs."
The best rule of thumb on when you should get your clubs re-gripped is to determine how many times a week you play. However many times you play in a week is how many times yo-u should get your clubs re-gripped per year.  For such a small investment, you get a really big return.
Schedule your appointment today! 772-288-1310